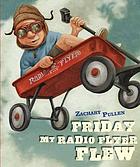 Book:
Friday My Radio Flyer Flew
Author: Zachary Pullen
Illustrator: Zachary Pullen
Published: 2008


When his dad finds an old red wagon in the attic, a little boy takes the opportunity to fix it up. He knows it can not only roll, it can
fly
. But days of work, false starts, and tumbles later, he's starting to have his doubts. Then his dream comes true, in a most unexpected way.

One of the first things I noticed is that this book is an illustration of shared father-son moments. Picture books tend more toward Dad-as-Hero, but instead Pullen chooses to show wordless moments of togetherness in everyday life. Not only the climax, which made me smile and smile, but throughout the book, the father watches or works alongside his son.

Pullen's oil-paint-on-board illustrations have a fifties feel about them, from the dad's hat to the son's sneakers and hairstyle. Big, beautiful two-page spread immerse you in the story. This simple, sweet story celebrates the power of joined imaginations.