Now that everyone's had time to chew it over, here's what I think of the picture-book and early readers winners from the ALA.
Caldecott: I
reviewed
The House in the Night
back in December and loudly proclaimed my love for it. When they announced this title on the webcast, I screamed so loud that my co-worker had to make soothing noises.
Geisel: Now I haven't read
Are You Ready to Play Outside?
But I have read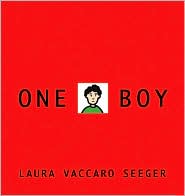 other Elephant and Piggie books, and you have to admit, Willems really knows what he's doing in this field. The honors were what made me go, "Hmm!" I did love
One Boy,
which is one of those picture books that wasn't marketed as an early reader but works as one. I wasn't expecting a nonfiction book like
Wolfsnail
to show up (although it's not strictly prohibited here or in any of the other awards which normally go to fiction). I was interested to see that
Stinky
is actually a sort of very young graphic novel. I think I'll go use my ALSC and YALSA memberships to bug people for a GN award.
Coretta Scott King: I haven't read
The Blacker the Berry.
I hope that when I do, I'll understand why
Before John Was a Jazz Giant
just got an honor.
Agree? Disagree? Desperately craving an ice cream sandwich? Do share. Especially the ice cream if you got it.
Dash over to
Confessions of a Bibliovore
for my take on the YA and MG winners.